News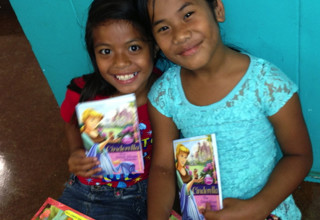 HELP US MAKE A DIFFERENCE FOR OAHU'S KIDS!
Reading is Fundamental, Honolulu, Inc. (RIF-Honolulu) is a 501(c)(3) non-profit organization.
RIF- Honolulu:
• Encourages a love of reading through book ownership
• Provides 16,000 books a year to K-3 students in economically disadvantaged communities on Oahu
• Is an all-volunteer organization, with no paid staff
Your gift of $50 buys 20 books, $100 buys 40 books, and $500 buys 200 books!
100% of all donations to RIF-Honolulu are used exclusively for our Oahu program! Contributions are tax-deductible to the fullest extent of the law.
Contribute to RIF-Honolulu by US Mail
Mail with check to:
Reading is Fundamental, Honolulu, Inc.
PO Box 61826 Honolulu, HI 96839-1826