What is RIF?
Reading Is Fundamental, Honolulu, Inc. (RIF-Honolulu) is a 501(c)(3) non-profit organization that serves children in areas on Oahu.
RIF-Honolulu:
• Encourages a love of reading through book ownership.
• Provides 16,000 books a year to K-3 students in under-resourced communities on Oahu.
• Is staffed entirely by volunteers.
100% of all contributions to RIF-Honolulu are used exclusively for our Oahu children's reading program.
~~~~~~~~~~
FEATURED STORY:
Kahalu'u Elementary's Monkey Pod Tables and Benches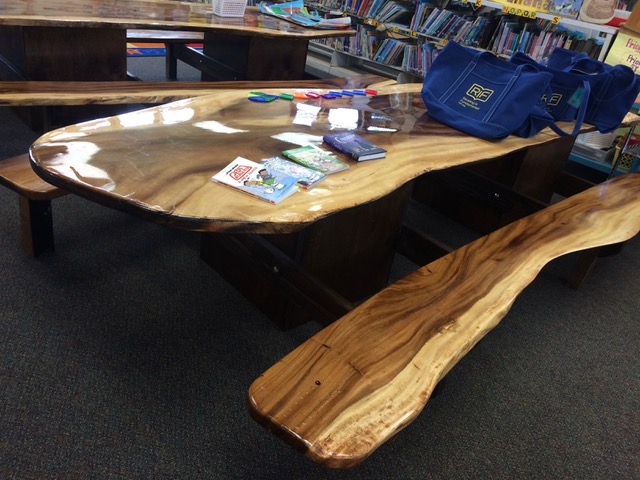 Many years ago, Uncle Eldean Kukahiko lived across the street from Kahalu'u Elementary School.  He attended the school as a boy, and through the years his family stayed close to the school, and his grandchildren also attended.
Uncle Eldean was a pastor and kupuna at the school, befriending both students and teachers, as well as teaching ukulele.  Several years ago a large monkey pod tree, planted in the 1960s on the campus, blew over during a storm.  Uncle Eldean had an idea.
He got permission from the city to harvest the tree and use the wood. The school's parent community helped him find a wood worker who sawed  and milled the wood into planks.  Uncle Eldean decided to teach his best friend, Peter Fields, how to turn the planks into tables and benches.
This was a lucky decision, because half-way through the project, Uncle Eldean passed away.  The tables, benches, and poi boards were completed by Peter Fields at the Parks and Recreation area in Kahalu'u.
Now, two lovely long tables and four benches grace the Kahalu'u Elementary School Library with their beautiful shapes and rich grain.
The students sit at them every day, and the RIF volunteers especially like coming to Kahalu'u Elementary to sit at the tables, and to look over books and enjoy the delicious snacks provided by Ms. Kobashigawa and Mr. Nakaoka.  Students in every grade pound poi on the beautiful monkey pod poi boards twice each year, led by Uncle Eldean's wife, Aunty Darlene.
The Latest
RIF Honolulu recently received a generous donation from Ann Whedbee, the mother of one of our volunteers, with instructions to purchase two specific titles. As a student she excelled in school, has always valued education, and is an avid, life-long reader. She loves the RIF program, and decided at the end of last year she wanted to help.

She chose Charlotte's Web by E. B. White and Ohana Means Family by Ilima Loomis because she feels it is important for children to be exposed to classic stories with a positive message. Ann further wants to support local writers, and provide stories that local children can identify with, hence Ilima's book. Ohana Means Family was selected after reading about a dozen books by local authors RIF Honolulu suggested and sent home for Ann's perusal.

Her photo above shows that a good book becomes a life-long friend and source of pleasure. Mrs. Whedbee will be 105 on March 10, 2022.